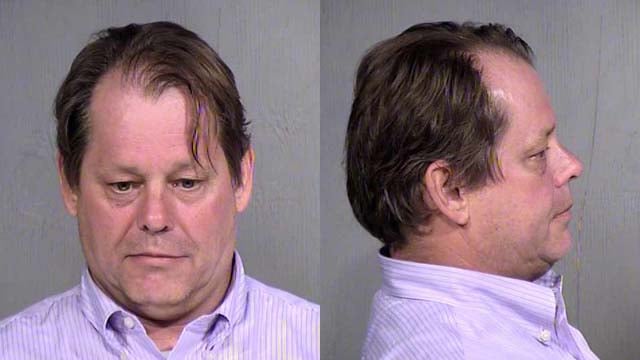 John Stuart. (Source: Maricopa County Sheriff's Office)
PHOENIX (CBS5) -
A Phoenix man who shot another motorist to death in a fit of road rage in 2008 was sentenced to 18 years in prison Friday morning.
Judge Sherry Stephens sentenced John Stuart to 18 years for second-degree murder and 14 years for a drive-by shooting. Stephens ordered the sentences to run concurrently with credit for time served.
A Maricopa County jury in September found Stuart, 51, guilty of second-degree murder in the fatal shooting of Thomas Beasley on Jan. 29, 2008. The men got into a shouting match at a red light near Tatum and Pinnacle Peak roads.
Police documents show Beasley got out of his car and went up to Stuart, and Stuart claimed he shot Beasley in self-defense, an argument the jury didn't buy.
The case against Stuart encountered lengthy delays. Multiple defense attorneys were appointed and later withdrew. Stuart, who acted as his own attorney, filed numerous pre-trial motions.
The first trial lasted 29 days before a mistrial was declared. The jury in the second trial deliberated for eight hours over three days before finding Stuart guilty on both counts.
He faced up to 43 years in prison on the charges.
[Click here to sign up for breaking news alerts]
Copyright 2014 CBS 5 (KPHO Broadcasting Corporation). All rights reserved.