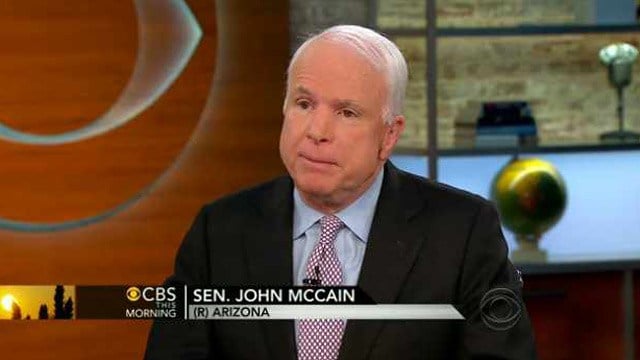 © CBS
WASHINGTON (CBS5) -
U.S. Sen. John McCain says the decision by the Federal Communications Commission (FCC) to end the federal sports blackout rule is a "victory for sports fans everywhere."
The FCC voted unanimously on Tuesday to end the NFL's blackout policy.
The policy was that home teams need to sell out their game tickets to avoid a blackout in their local TV market. The blackout rule originally was meant to spur fans to attend games.
McCain, R-AZ, said the policy is "no longer logical in today's marketplace."
McCain and Sen. Richard Blumenthal, D-CT, introduced the legislation and McCain released this statement following the vote.
"Today's unanimous vote by the FCC to eliminate its sports blackout rule is a victory for sports fans everywhere. The fact that the vote was a shut-out underscores the bipartisan agreement that the rule was antiquated and anti-consumer, and a good example of how both parties can work together to spike unnecessary regulations that protect special interests at the expense of everyday Americans. Today's vote moves the ball down the field, but there's still much work to be done to root out all of the various causes of sports blackouts. I urge the NFL to rescind its policies that continue to allow blackouts, or else Congress will act on this issue. Last year, Senator Blumenthal and I introduced the Furthering Access and Networks for Sports (FANS) Act, which would address this issue by requiring leagues to meet basic obligations to fans if they wish to continue receiving substantial benefits from the public, including their exemption from federal antitrust law. The American people are deeply disappointed in Washington's seeming inability to accomplish much of anything, but today's vote is worthy of a cheer."
Copyright 2014 CBS 5 (KPHO Broadcasting Corporation). All rights reserved.