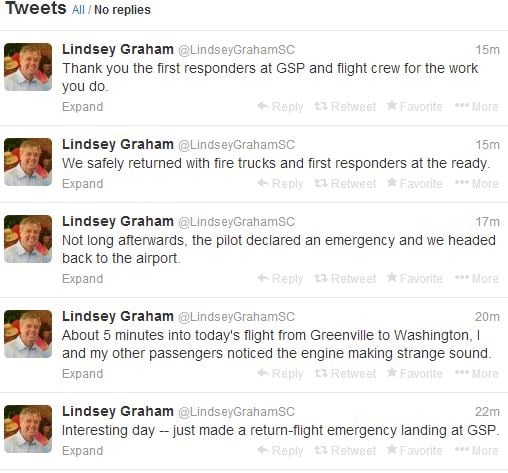 Sen. Graham tweeted about the emergency landing at GSP. (Source: Twitter)
GREER, SC (FOX Carolina) -
Rosyln Weston, spokeswoman for Greenville-Spartanburg International Airport, confirmed to FOX Carolina a United Flight headed to Dulles International Airport made an emergency landing shortly after takeoff Monday afternoon.
Weston said the plane took off at 2:37 p.m. and shortly thereafter the pilot reported there was a problem. The decision was made to turn around and make an emergency landing. The plane landed safely at 3:06 p.m. and all 40 passengers on board are OK.
South Carolina Sen. Lindsey Graham confirmed on Twitter he was on the flight. He tweeted "About 5 minutes into today's flight from Greenville to Washington, I and my other passengers noticed the engine making strange sound."
Weston said an oil indicator light was on but there's no official word on what the exact issue was with the plane. They are currently investigating.
Copyright 2014 FOX Carolina (Meredith Corporation). All rights reserved.