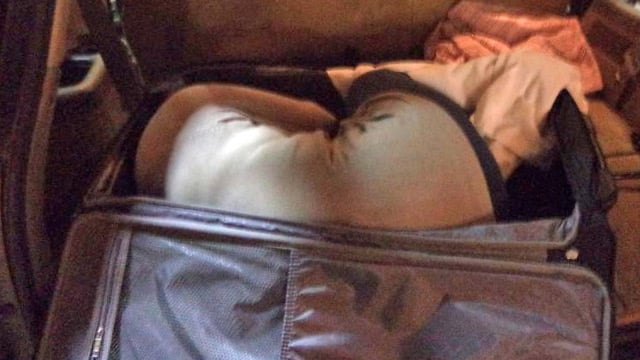 A Phoenix man was caught trying to smuggle this Thai woman across the border in a suitcase, according to the U.S. Border Patrol. (Source: U.S. Customs and Border Protection)
NOGALES, AZ (CBS5) -
The holidays were full of surprises for U.S. Customs and Border Protection officers as they took the wraps off ammunition, drugs and even a person stuffed into a suitcase at border checkpoints.
Here is a report of incidents involving drug and human traffickers from the Border Patrol:
CBP officers stopped a 56-year-old man at the Port of Nogales on Dec. 30 and found a 48-year-old woman from Thailand hiding underneath clothing in a suitcase in the back of the man's Honda SUV.
Officers on New Year's Day stopped a 24-year-old Phoenix woman at the Port of Lukeville and seized 6,000 rounds of ammunition as she tried to enter Mexico. The ammunition was in three backpacks in the back seat of her sedan.
A 27-year-old woman from Mexico was arrested at the Port of Nogales on Dec. 22 after nearly 15 pounds of methamphetamine estimated to be worth about $232,000. Officers used the services a drug-sniffing dog.
On Dec. 26, officers at the Port of San Luis stopped a Chevrolet SUV driving by a 40-year-old Avondale man for further inspection and found more than 50 pounds of methamphetamine in the fuel tank. It was estimated to be worth more than $800,000.
And, on Dec. 27, a 32-year-old Glendale woman was apprehended at the Port of Naco for trying to smuggle nearly 136 pounds of marijuana worth about $68,000 in the tires her Nissan truck.
In each incident, the vehicles and contraband were seized, agents said.
Copyright 2014 CBS 5 (KPHO Broadcasting Corporation). All rights reserved.