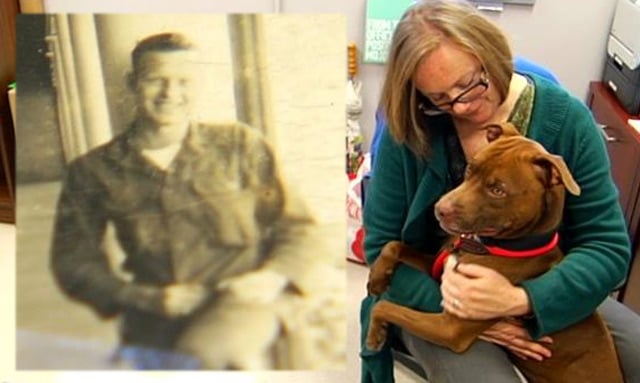 The photo found in Soldier's collar is on the left. (Jan. 21, 2014/FOX Carolina & Greenville Co. Animal Care)
GREENVILLE, SC (FOX Carolina) -
The mystery continues surrounding a stray dog found in Greenville County with an old photo of an unknown man tucked into his collar.
A spokesperson for Greenville County Animal Care said they have received numerous calls from people across the country thinking "Soldier" may be their dog.
The 2-year-old pit bull mix was named Soldier after he was brought in by Animal Control as a stray. He was found along Bahan Street in Taylors on Jan. 13.
"He's very friendly with people and just a really nice dog, but the interesting thing is he had a photo inside his collar," said spokesperson Susan Bufano.
The photo was wedged between two pieces of canvas in Soldier's collar. It is an old, battered black-and-white photo of a man leaning against a fence post, possibly holding a bag or with his knee propped up.
Animal Care has been posting updates on their Facebook page here. Bufano said they believe he was someone's pet and hope to reunite him with his family - or help him find a new home.
She said they are asking anyone who may think he is there dog to send in photos, especially if they are not local. Anyone interested in adopting Soldier if his family is not found can email petpr@greenvillecounty.org.

Copyright 2014 FOX Carolina (Meredith Corporation). All rights reserved.