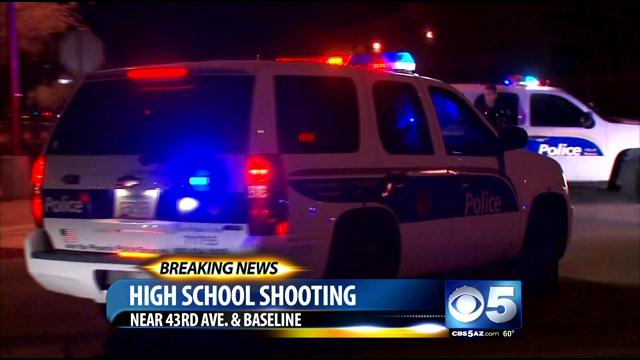 Cesar Chavez High School shooting (Source: CBS 5 News)
PHOENIX (CBS5) -
Phoenix police say several shots were fired at a basketball game at Cesar Chavez High School on Friday night.
Lt. Tom Van Dorn with the Phoenix Police Department said they put the campus on lock down but no one was injured.
Officers searched for three suspects and detained several individuals for questioning. Their gang squad was on the scene because a gang name had been shouted prior to the shots ringing out.
Phoenix Fire treated three people at the scene for medical emergencies; one person had a seizure and two others suffered from an asthma attack.
Witnesses tell CBS 5 that numerous shots were fired just outside of the gym where a basketball game between Cesar Chavez and Betty Fairfax High Schools.
Students from both schools said there is a fierce rivalry between the two schools. Witnesses tell CBS 5 that the gym was at capacity and many people were waiting outside of the gym at the time of the shooting.
Cesar Chavez High is located near Baseline and 39th Avenue in Phoenix.
"This is our high school experience," said witness Joslyn Riley. "It makes us not want to go to a game again because we are fear our lives."
This is a developing story. Check back for details.

Copyright 2014 CBS 5 (KPHO Broadcasting Corporation). All rights reserved.