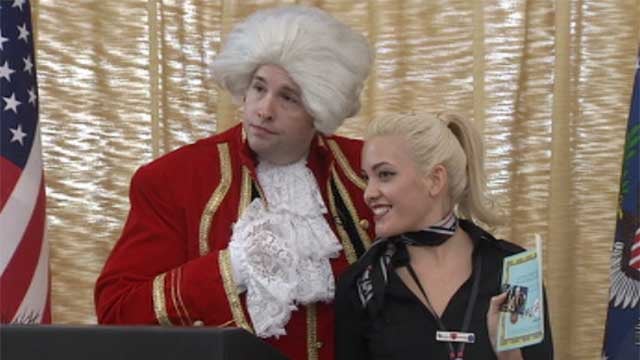 Presidential "pardons" were doled out at McCarran Airport on Feb. 17, 2014 to any out-of-towners who had too much fun in Las Vegas over the extended weekend. (Eric Youngman/FOX5)
LAS VEGAS (FOX5) -
Out-of-towners visiting Las Vegas for the extended Presidents Day weekend were given the opportunity to seek relief for any awkward situations they faced.
Thanks to a de facto president in a powdered wig, those people who may have had too much fun in Las Vegas were given "official" presidential pardons Monday. The pardons were given at McCarran International Airport as a last resort of washing those incidents clean before leaving the tourism mecca.
The pardons were part of Las Vegas' long-standing and well-known "What Happens Here" campaign.
Vine videos of those pardons were also created, reaching out to social media users while also referring to local celebrities on some Vegas-based offenses.
"We know you were no 'angel' this weekend. We're here to make your weekend disappear," said the president in reference to Criss Angel.
You can view some of the pardons at twitter.com/vegas.
Copyright 2014 KVVU (KVVU Broadcasting Corporation). All rights reserved.