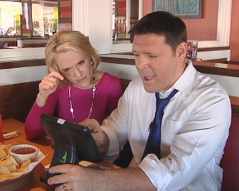 PHOENIX (CBS5) -
Dining at restaurants is going high-tech.
Now several restaurants across the Valley, including Red Robin, Buffalo Wild Wings and Chili's, are using tablets to make the dinning experience more efficient.
CBS 5 News went to Chandler to try out the self-service ordering machines at the Chili's in Chandler.
Not only can customers order their own food, drink and dessert on what's called a Ziosk, they can also read and play video games on the tablet.
"So you can see our USA Today over here, you can play trivia. We have different sections for popular games, puzzle-oriented games, action games, kids games," said Cara Cox, the general manager at the Chili's in Chandler.
Cox said the Ziosks are not meant to replace the server but to help them. Customers can also pay themselves without waiting for a server to take their money at the end of their meal.
Copyright 2014 CBS 5 (KPHO Broadcasting Corporation). All rights reserved.