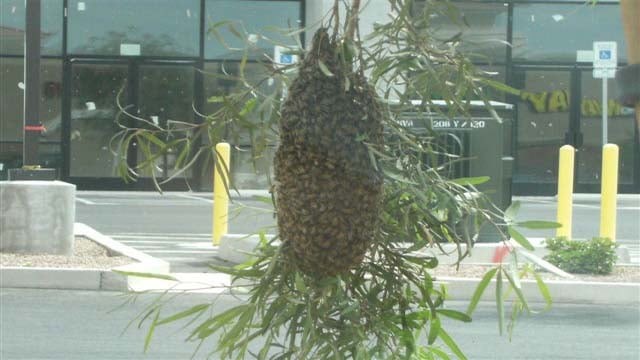 A swarm of bees is depicted in this undated file photo. (Source: Timothy R. Szymanski/Las Vegas Fire and Rescue)
LAS VEGAS (FOX5) -
Las Vegas Fire and Rescue reported several people were stung by agitated bees, including firefighters, at an apartment complex in northwest Las Vegas Tuesday afternoon.
Firefighters were called to the Paradiso complex, located on N. Rainbow Boulevard near Smoke Ranch Road, just before 2 p.m. Firefighters arrived to find agitated bees flying around the south side of the complex.
At least three people were stung several times. A few other people received one or two stings. Arriving firefighters received stings as well. No one was taken to a hospital.
People were asked to stay in their homes and vehicles while apartment management contacted a licensed exterminator.
Firefighters warn that bees typically begin swarming in late February in southern Nevada. Swarms typically pose no threat, but bees with an active hive that sense danger will sting aggressively to protect it.
Las Vegas firefighters will not exterminate bees. They will respond, however, when several people are stung or if someone with a medical condition is stung.
The Nevada Pest Control Association has a list of licensed bee removal services available by calling 702-385-5853.
Copyright 2014 KVVU (KVVU Broadcasting Corporation). All rights reserved.