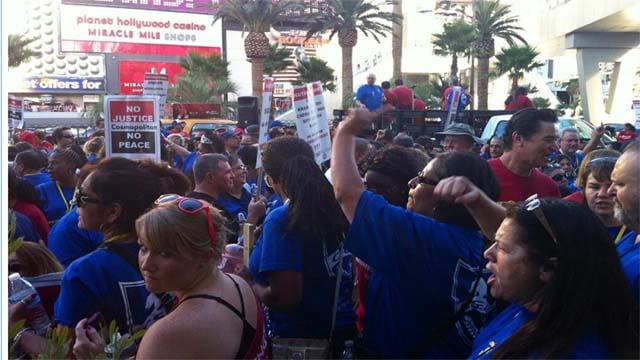 Union members picket in front of The Cosmopolitan on July 31, 2013. (Ashley Conroy/FOX5)
LAS VEGAS (AP) -
Members of a powerful Las Vegas hotel union are planning a vote next month that could empower organizers to call for a strike.
The Culinary union is negotiating over contracts that cover about 10,000 Las Vegas workers.
Last week, members voted to end a contract extension put in place in June, which means workers now have the right to picket, boycott, and strike.
Culinary spokeswoman Yvanna Cancela says members will take a strike authorization vote on March 20.
The 17 casinos still in negotiations include the Golden Nugget, the D, Tropicana and the Stratosphere. The union recently agreed on new contracts with MGM Resorts International and Caesars.
Cancela says contract negotiations have not ended in a strike since 1991, when workers picketed the Frontier casino for more than 6 years.
Copyright 2014 The Associated Press. All rights reserved. This material may not be published, broadcast, rewritten or redistributed.