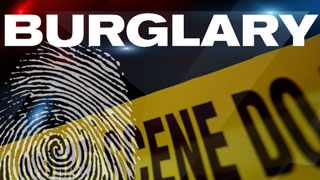 MARION, NC (FOX Carolina) -
Deputies in a western North Carolina town hope someone has information on a string of burglaries that have happened in the past week.
McDowell County deputies said someone broke into two homes in the Clear Creek Road area of Marion on Feb. 20.
One victim reported that someone broke into his Old Clear Creek Road home between 9 a.m. and 3:30 p.m., swiping more than $700 worth of items, according to deputies. The victim said a TV, a microwave oven and a taxidermist-stuffed bobcat were stolen.
The burglars also cause $1,000 in damage to a door, deputies said.
The same day, someone broke into a Clear Creek Road home between 7:20 a.m. and noon, stealing six guns, a laptop and iPad all worth $2,750, deputies said.
Deputies believe two men are behind the break-ins but do not have photos or names of the suspects.
Anyone with information about the crimes or suspects is asked to call the detectives on the case at 828-652-2237 or McDowell County Crime Stoppers at 828-65-CRIME (652-7463).
Copyright 2014 FOX Carolina (Meredith Corporation). All rights reserved.