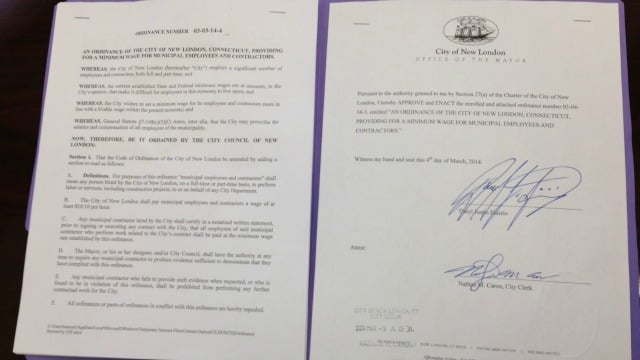 NEW LONDON, CT (WFSB) -
New London Mayor Daryl Justin Finizio signed a bill raising the minimum wage for municipal employees and contractors to $10.10.
"I will be proud to sign this ordinance into law," Finizio said before the signing. "I hope other municipalities and employers will follow New London's example, because no one working full time should be forced to live in poverty."
During Monday night's meeting, the New London Council voted 6-1 in favor of the ordinance.
"Some of the hardest working people in America work at low-paying jobs, and they deserve the dignity of a fair wage," New London Council President Wade Hyslop said in a statement Tuesday.
During his State of the Union address, President Barack Obama asked governors in all the states to raise the minimum wage. Gov. Dannel Malloy has previously stated he is in favor of raising the minimum wage in Connecticut, which is $8.70.
"President Obama issued a call to action," Finizio said in a statement Tuesday. "I am proud that today New London becomes the first city in our state to answer that call."
Obama along with Malloy and Finizio will be at a Raise The Wage event at Central Connecticut State University on Wednesday.

Copyright 2014 WFSB (Meredith Corporation). All rights reserved.