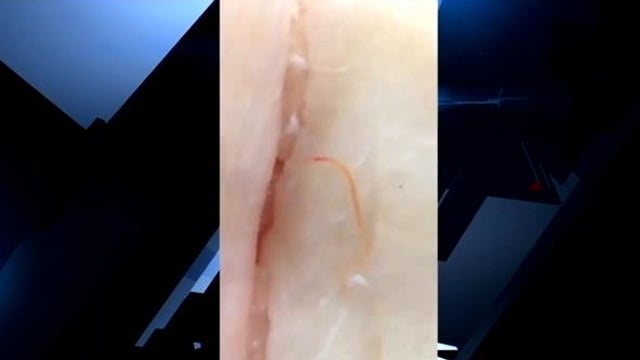 The packaged, raw fish with an orange worm crawling. (Source: Facebook)
SPARTANBURG, SC (FOX Carolina) -
A video of a worm crawling in a package of raw fish at an Upstate Costco store is going viral after it was posted on Facebook.

According to the video post, the fish was found at the Spartanburg Costco recently, and it shows an orange worm squirming on top of the raw fish inside the package. The video has been shared on Facebook more than 260,000 times since it was posted March 14. See it here.

Craig Wilson, a Costco spokesman, said the company has a strong safety program in place for their suppliers and that all of the fish is carefully inspected.
He said the worm is actually a parasite that can be found in fish, and it is not a food safety issue if the fish is cooked.
Wilson said Costco is going back to their suppliers to make sure they are doing everything they can to prevent incidents like this.
Copyright 2014 FOX Carolina (Meredith Corporation). All rights reserved.