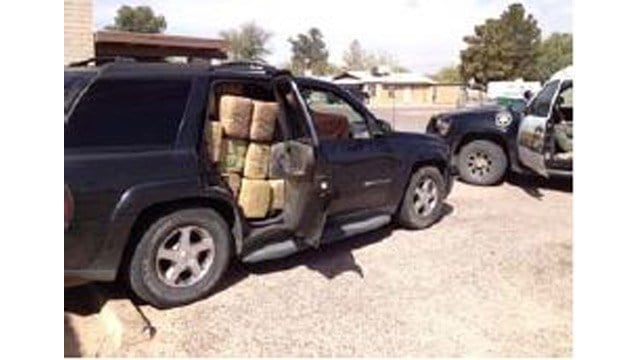 Pinal County sheriff's deputies seized almost 1,200 pounds of marijuana after a high-speed chase, but the driver escaped. (Source: Pinal County Sheriff's Office)
FLORENCE, AZ (CBS5) -
Pinal County sheriff's deputies seized almost 1,200 pounds of marijuana after a high-speed chase in which the driver eluded capture nearly two weeks ago.
A detective with the PCSO's Anti-Smuggling Unit tried to stop a 2003 Chevrolet Trailblazer for a traffic violation about 10:30 a.m. March 13 in unincorporated Stanfield, according to a PCSO spokesman.
The Trailblazer sped away, reaching speeds up to 90 mph, and the driver tossed a bundle of about 24 pounds of marijuana out of the window, the spokesman said. The detective said the bundle broke open when it hit the roadway.
The detective lost sight of the Trailblazer and later found it abandoned. The driver was never found, the spokesman said, but the Trailblazer contained 52 bundles of marijuana weighing 1,173 pounds and worth an estimated street value of $879,750, the spokesman said.
The detective said he returned to the spot where the marijuana was thrown from the vehicle, but found only 2 pounds of the loose pot on the road.
The vehicle and marijuana were seized.
Copyright 2014 CBS 5 (KPHO Broadcasting Corporation). All rights reserved.