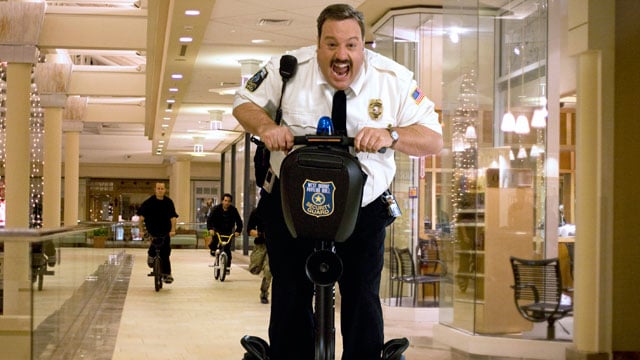 In this image released by Sony Pictures, Kevin James is shown in the comedy "Paul Blart: Mall Cop." (AP Photo/Sony Pictures, Richard Cartwright)
LAS VEGAS (FOX5) -
Nevada's luxury casinos and a generous tax credit have lured the crew of a major movie sequel to Las Vegas.
Sony Pictures Entertainment's Paul Blart: Mall Cop 2 is set to begin shooting on April 21, principally at Wynn Las Vegas and the adjacent Encore Las Vegas.
The plot is said to involve actor Kevin James' character, the titular Paul Blart, attending a security guard expo and stumbling on an art heist.
"When the production team first approached us with the script, we were intrigued with how seamlessly the plot aligned with the resort and our collection of fine art," said Maurice Wooden, president of Wynn Las Vegas and Encore Las Vegas.
Sony is said to have sought $4.2 million in tax credits to shoot in Las Vegas. It's part of Nevada's $20 million program aimed at bringing major films to the state.
"Right off the bat, the filmmakers identified Wynn and Encore Las Vegas as the perfect location. It's not often that the needs of a production company and the goals of a location coincide so perfectly, so it's fantastic to be able to shoot there," said Andy Davis with Columbia Pictures.
Copyright 2014 KVVU (KVVU Broadcasting Corporation). All rights reserved.