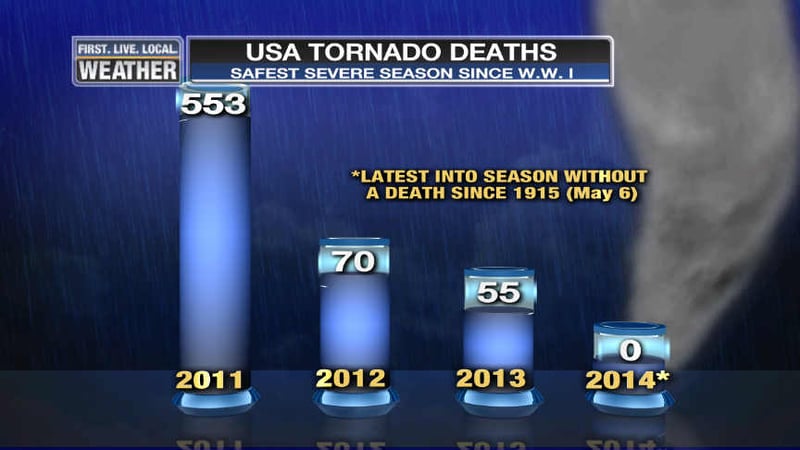 PORTLAND, OR (KPTV) -
It has been slow start to the severe weather season across the United States and that translates into lower weather-related deaths.
So far in 2014, there have been zero deaths as a direct result from a tornado. Last year, tornadoes were responsible for 55 deaths and in 2012, tornadoes killed 70 people. It was only three years ago when 553 people were killed from tornadoes during a very active severe weather season.
The drastic decline this year, which has been the safest severe weather season since World War I, could be due to the lack of tornadoes.
NOAA's Storm Prediction Center has received only 109 preliminary reports of tornadoes so far this year, none of which have been rated higher than a two on the Enhanced Fujita scale. Less tornadic activity would result in less fatalities.
However, any tornado, no matter the strength, can cause death. In the past few years, weather watches and warnings have been tweaked and adjusted in order to provide important and timely information to the public. Social media has been a big platform for disseminating this kind of information. It too may also be responsible for lowering tornado-related deaths.
Copyright 2014 KPTV-KPDX BroadcastingCorporation. All rights reserved.