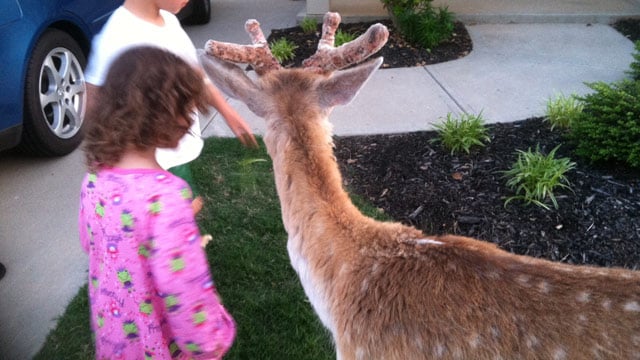 The deer was not afraid of children or neighbors. (May 4, 2014/FOX Carolina)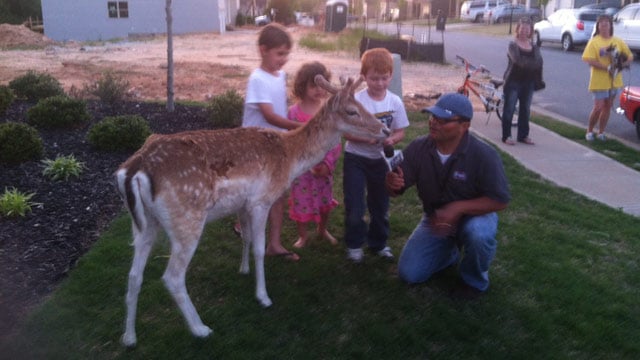 FOX Carolina photojournalist Enrique Salinas was able to get up close to the deer too. (May 4, 2014/FOX Carolina)
SIMPSONVILLE, SC (FOX Carolina) -
Unfazed by onlookers and kids who wanted to get close, a deer had a Simpsonville neighborhood outside on Sunday.
The deer was spotted wandering through the Bridgewater Subdivision about 7 p.m.
Residents were surprised to find the deer unfazed by the attention and appeared quite calm around people.
Neighbors did not know where the deer came from but followed it to make sure it did not get hit by a car. By its response to the crowd, some thought it may have been domesticated.
South Carolina Department of Natural Resources officials said based off of the photos and video, it appears to be a Fallow deer, which is not native to South Carolina.
DNR is checking with local wildlife refuges and facilities to see if they are missing a deer.
According to Fallow Deer Reserve, Fallow deer originated from the Mediterranean region of Europe and Asia Minor and were later brought over to parts of North America.

Copyright 2014 FOX Carolina (Meredith Corporation). All rights reserved.