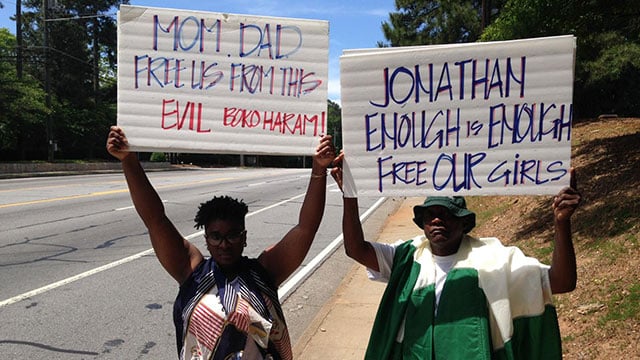 ATLANTA (CBS46) -
A handful of Nigerian-Americans staged a protest outside of the Nigerian Consulate in Atlanta on Wednesday. They said they planned to protest until 276 kidnapped Nigerian school girls were released.
"The future of my children are at stake. I can't take it. If I have to die for this, I'm ready," declared Bo Adedeji, who came to the U.S. from Nigeria more than 30 years ago.
A terrorist network, called Boko Haram, snatched the girls three weeks ago. In a video, the leader threatened to sell the teens into slavery. The group said western influences like education are corruptive and they want to impose an Islamic state in Nigeria.
Adedeji said Nigeria isn't doing enough to get the girls back. "Why don't you get off of your high horse of ignorance and stupidity and arrogance and ask for help?"
Adedeji's daughter, Christina Adedeji, 23, joined her father at the protest. "It's very terrifying. I can only imagine what would have happened if I had been taken," she said.
Similar rallies are planned Thursday and Friday evenings at Centennial Olympic Park in Atlanta.
Copyright 2014 WGCL-TV (Meredith Corporation). All rights reserved.