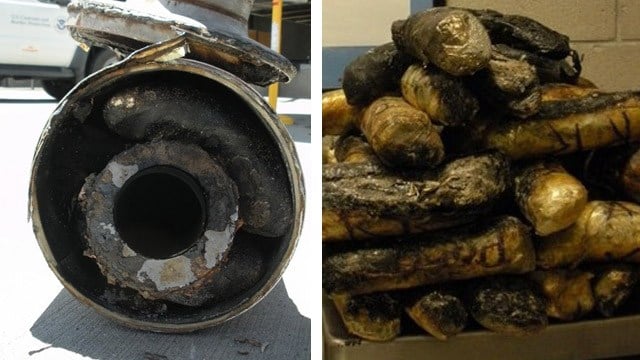 More than 69 pounds of methamphetamine and brown and black heroin were found in the smokestack mufflers of a Kenworth tractor in Nogales. (Source: U.S. Customs and Border Protection)
NOGALES, AZ (CBS5) -
Apparently, U.S. Customs and Border Protection officers are trying hard to exhaust the means by which traffickers can smuggle drugs into the country.
The Mexican driver of a semitractor was in custody after CBP officers said they found 69 pounds of hard drugs in the tractor's smoke stack mufflers Saturday, according to a CBP news release.
The 27-year-old driver of the Kenworth tractor headed into the U.S. was pulled over for additional inspections at the Mariposa crossing in Nogales, according to the release.
Inspectors removed the mufflers and found 44 pounds of methamphetamine and 25 pounds of black and brown heroin. The drugs had an estimated street value of $485,000, according to the release.
The driver was turned over to U.S. Immigration and Customs Enforcement's Homeland Security Investigations.
Copyright 2014 CBS 5 (KPHO Broadcasting Corporation). All rights reserved.