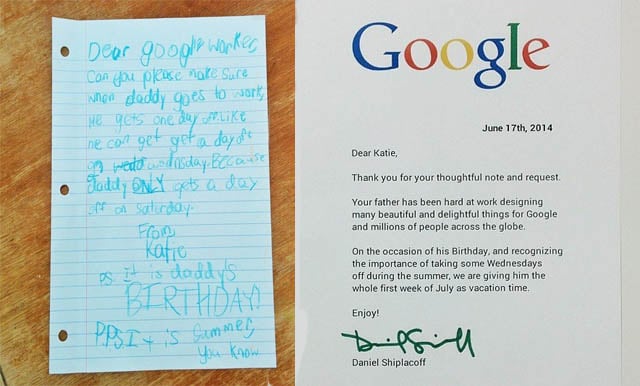 ATLANTA (CBS46) -
A Reddit post went viral over the weekend after a little girl wrote a note to get her dad a day off work for his birthday; and the dad's employer, Google, wrote her back.
The letter—written in blue crayon no less—begins "Dear Google Worker…"
It continues: "Can you please make sure when daddy goes to work, he gets one day off. Like he can get a day off on Wednesday. Because daddy ONLY gets a day off on Saturday."
The note is signed "From Katie," then includes two post scripts. The first reminds said "Google Worker" that Wednesday is her dad's birthday. And the second said "P.P.S. It's summer, you know."
Katie's dad's boss from Google sent her a response June 17. Senior designer Daniel Shiplacoff thanked the girl for her letter, praised her father's "beautiful and delightful" work then gave him the entire first week of July off.
Google confirmed to CBS46 the validity of both Katie's letter and Google's response.
Google is well known for its flexible work policies.
Copyright 2014 WGCL-TV (Meredith Corporation). All rights reserved.