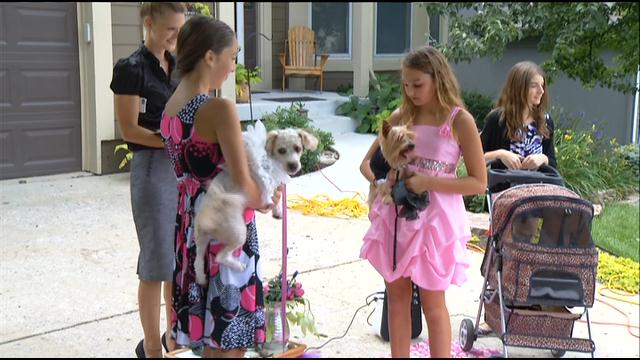 OLATHE, KS (KCTV) -
Two Olathe girls spent their summer raising money for their local animal shelter and a wedding for their dogs.
It started when the friends arranged a bake sale last spring. They raised $155, with half going to the Olathe Animal Control and the other half going to the ceremony.
Their final goal was culminated Saturday when their dogs, Tessie, a yorkiepoo, and Dexter, a Yorkshire terrier, read their vows and tied the knot.
The girls' babysitter, who was ordained on the Internet, even served as the dogs' minister.
"We were playing, 'maybe we should have a dog wedding?' It would be fun. Dexter could find his soul mate. Once they got their little puppy, we decided now is the time they're going get married," Elena Gonzalez-Bravo said.

The girls' parents say the two showed a lot of creativity and spent countless hours over the summer preparing for the fundraiser.
Both dogs were adopted, and the girls hope that others will know that whether people want a certain breed or just a mutt, adoption is a great option.
Copyright 2014 KCTV (Meredith Corp.) All rights reserved.