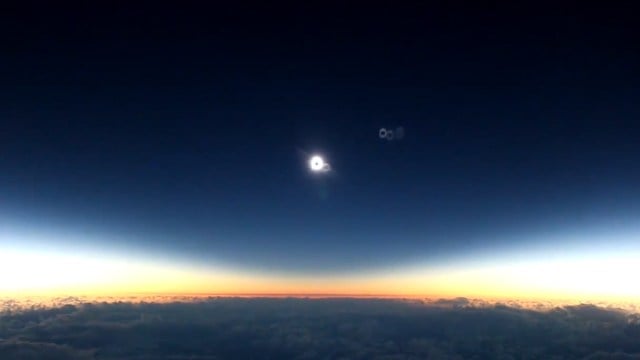 Solar eclipse (Source: Mike Kentrianakis / American Astronomical Society)
ATLANTA (CBS46) -
Alaska Airlines adjusted flight #870 from Anchorage to Honolulu just so their passengers could catch a solar eclipse from 35,000 feet.
Mike Kentrianakis, a solar eclipse project manager for the American Astronomical Society, was on that flight and shot this amazing video.
His reaction was so priceless, it went viral.
About a year ago, Joe Rao, an associate astronomer at the American Museum of Natural History's Hayden Planetarium, discovered the flight would intersect the "path of totality" – the darkest shadow of the moon as it passes over the Earth, according to a blog post by Alaska Airlines.
However, the flight's normally scheduled departure time would be 25 minutes too early, missing the peak of the eclipse.
Rao called Alaska Airlines and the airline company decided to move the plane.
"It's an unbelievably accommodating gesture," said Kentrianakis. "Not only is Alaska Airlines getting people from Point A to Point B, but they're willing to give them an exciting flight experience. An airline that's actually talking to their people – and listening! That's customer service at its best. It's become personal."
Copyright 2016 WGCL-TV (Meredith Corporation). All rights reserved.