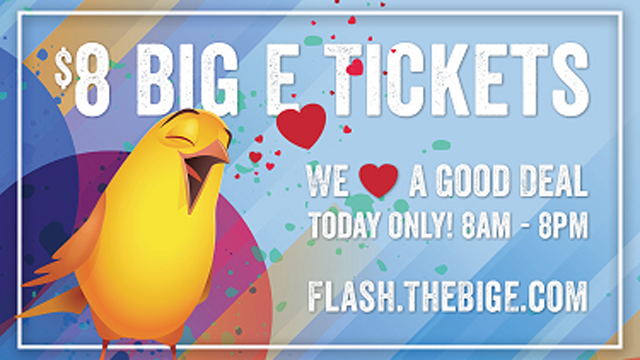 (thebige.com)
WEST SPRINGFIELD, MA (WFSB) -
It may still be winter, but The Big E wants its fans to start thinking about the fall.
The Eastern States Exposition is offering $8 tickets to this year's event.
The deal runs until 8 p.m. on Valentine's Day only.
"This one day rollback of our gate admission ticket price is our way of showing thanks to all our guests who helped make the 2017 Big E the biggest Fair in ESE history with attendance of 1,525,553," said Gene Cassidy, president, CEO, Eastern States Exposition.
The 102 Big E starts on Sept. 14 and runs through Sept. 30.
Tickets can be bought through its website here.
Copyright 2018 WFSB (Meredith Corporation). All rights reserved.