Massachusetts taxpayers to receive revenue refunds starting Tuesday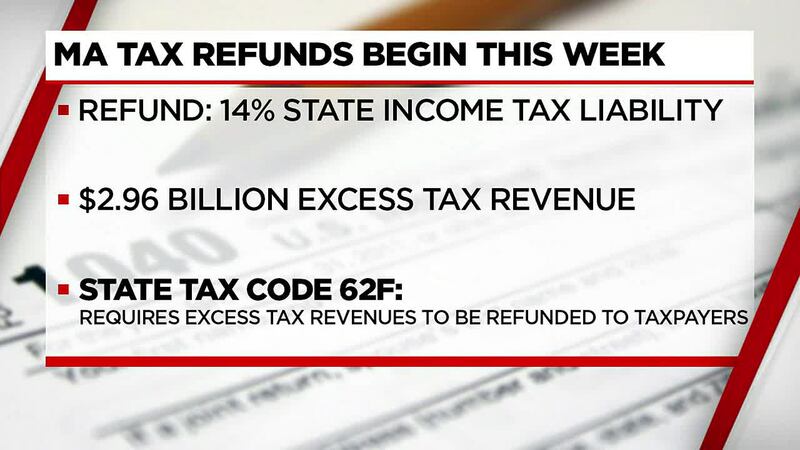 Published: Oct. 31, 2022 at 11:40 AM EDT
|
Updated: Oct. 31, 2022 at 5:38 PM EDT
BOSTON (WGGB/WSHM) - Tax refunds will start going out to Massachusetts taxpayers starting Tuesday. It's all part of a rarely used state law that has been triggered by the excess tax revenue the state collected in 2021.
"I'm trying to understand the process of the whole thing," said Jose Rivas of Springfield.
"I know there are a few changes going on, but I didn't know about that one, no," added Bob Lane of Springfield.
An estimated 3.6 million taxpayers in Massachusetts are expected to receive a refund on a portion of the state taxes they paid in 2021 - roughly 14 percent. This based on a rarely used tax law that was triggered when state tax revenues in 2021 officially exceeded the annual cap on the books.
Local accountant Tom Morrow broke down how you can find out how much you're owed by looking at your tax return.
"There's a certain place that it's on, I think line 32 on your taxes on Form 1 of the Massachusetts tax schedule…Once you find that number and you didn't get credits for anything else like maybe your earned income tax credit or the circuit breaker credit for senior citizens, any additional credits of earned income tax credit, whatever that liability is," Morrow explained.
From there, you multiply by .14 and that's how much you would receive. As an example, if you paid $1,000 dollars in state income taxes, you would receive a refund of approximately $140.
For those who have already filed, refunds are expected to be processed from now until December 15. Taxpayers can expect a check in the mail or a direct deposit that's MASTTAXRFD. For those who haven't filed your 2021 taxes yet, don't worry. The Department of Revenue has extended the date on which you can file and you now have until September 15, 2023. Anyone who is filing their 2021 taxes late can expect their refund approximately one month after filing.
Western Mass News spoke with taxpayers to get their reaction to their potential refunds.
"It's always nice to get some money back. I'm sure at the end of it, we're going to pay for it somehow, maybe in next year's budget," Lane said.
"I'd rather have that it goes out to people that actually deserve it, for whatever difference in their lifestyle. Maybe, it boosts families," Rivas added.
The credit may be reduced due to refund intercepts, including unpaid taxes, unpaid child support, and certain other debts.
You can estimate your refund here.
More information Chapter 62F, including frequently asked questions can be found here. In addition, a call center will be available starting Tuesday, September 20. The center will be open Monday through Friday from 9 a.m. to 4 p.m. and can be reached at (877) 677-9727. The state noted that the center will not be able to provide exact refund amounts, but the online estimator tool can help calculate a preliminary estimate.
Copyright 2022. Western Mass News (WGGB/WSHM). All rights reserved.