LEGO announces move from Enfield to Boston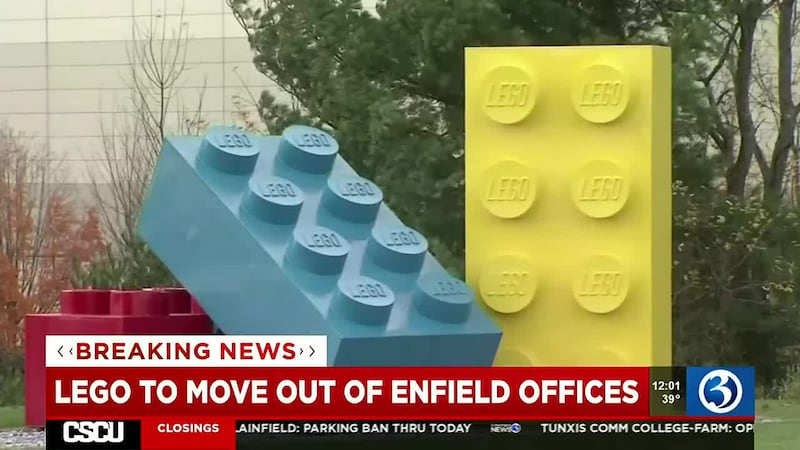 Published: Jan. 24, 2023 at 10:54 AM EST
|
Updated: Jan. 24, 2023 at 12:40 PM EST
ENFIELD, CT (WFSB) - LEGO is moving its head office out of Connecticut.
President of the LEGO Group in the Americas, Skip Kodak, announced on Tuesday the plan to move from Enfield to Boston.
Kodak said the move would support the business's long-term growth ambitions to bring LEGO play to even more children in the US and the Americas region.
"Boston is ranked one of the best cities in the world to attract and retain talent," he said in a statement. "This, along with its world-class academic institutions, skilled workforce and great quality of life makes it an ideal location for our US head office. We have exciting plans for the next phase of growth and hope we can retain many of our current team, as well as attract new colleagues."
The move from Enfield is expected to happen by the end of 2026.
The Town of Enfield released statements about it later Tuesday morning.
"Enfield has been their home for almost 50 years and we were sorry to hear this news," said Enfield Mayor Bob Cressotti. "But, on the other side, we were relieved to hear that all employees were being retained, and those who choose not to will be eligible for job transition assistance."
The building, built for LEGO in 1975, has been owned by Winstanley Enterprises and shared with Coca Cola as the other tenant.
"LEGO has been a very generous corporate citizen especially as it relates to the Family Resource Centers and we hope to continue that relationship as one of their key legacies in this area," said Enfield town manager Ellen Zoppo-Sassu.
Kodak said the move to the new office will happen in a phased way beginning in mid-2025 and be completed by the end of 2026. Until then, LEGO employees will work across two sites the existing office in Enfield and the company's LEGO Education office in Back Bay, Boston, where new roles will be located.
All colleagues based in Enfield will have a position in the new location and will receive relocation assistance if they wish to make the move. Colleagues who choose not to relocate will receive financial support and job placement assistance to transition to new opportunities outside the company, the company said.
"It is tied to Enfield's identity, it's the only LEGO in the state," said Zoppo-Sassu.
Zoppo-Sassu said she can't change LEGO's mind, so she's focused on helping employees and finding a new tenant.
LEGO's Enfield office employees 740 people. Three-hundred sixty live in Connecticut and the rest live in Massachusetts.
A spokesperson for LEGO said:
"Today's announcement is an important step towards achieving our long-term growth ambitions to bring LEGO® play to even more children in the US and the Americas region. Moving our office to Boston allows us to add new talent to our existing team who have all been guaranteed their positions if they wish to make the move. Those who do not wish to move will receive financial support and job placement assistance to transition to new opportunities outside the company."
"LEGO is concerned and has been concerned for the past few years about their talent pipeline and we have heard that from other employers, moving into a more urban, dense saturated type environment will solve those issues for them," Zoppo-Sassu said.
The move will take three years. The lease in Enfield ends in 2026.
"We're grateful for our fantastic team and the support we've received in Connecticut over the past 50 years," Kodak said. "This has allowed us to build a successful business and inspire millions of children. We wanted to give our people plenty of time to plan their futures, so will implement a gradual transition over the next few years."
Gov. Ned Lamont said he was disappointed about the decision.
"I am confident in Connecticut's ability to attract and retain companies that value our competitive advantages in education, workforce, and quality of life," Lamon said. "We are seeing these advantages resonate more and more in industries such as advanced manufacturing, life sciences, and fintech. Based on my conversations this morning with LEGO's leadership, their move is motivated not by any Connecticut policy but rather LEGO's desire to consolidate their business operations near the company's Education Office and to enhance their partnership with MIT. While LEGO has announced that no layoffs will be part of the relocation, the Connecticut Department of Economic and Community Development, Office of Workforce Strategy, and Department of Labor will work with LEGO to place affected workers who choose to depart the company and stay in Connecticut."
"My office has been assured that over that time, employees will be given a chance to retain their positions in Boston if they choose," said Congressman Joe Courtney.
Connecticut has lost some big employers in recent years:
2016: General Electric relocated HQ to Boston

2017: Aetna moved home office out of Hartford

2019: Stag Arms left New Britain for Wyoming

2019: Pratt & Whitney moved 100 jobs to Boston

2021: Stanley Innovation Center moved to Baltimore
"Yes its been hard for us to compete for those looking for that urban type of environment but we are making real in roads there and I think we will continue to see people identify those small cities as cities that offer same quality of life," said Alexandra Daum, DECD Acting Commissioner.
Copyright 2023 WFSB. All rights reserved.