St. Patrick's Day rites: Parades, bagpipes, clinking pints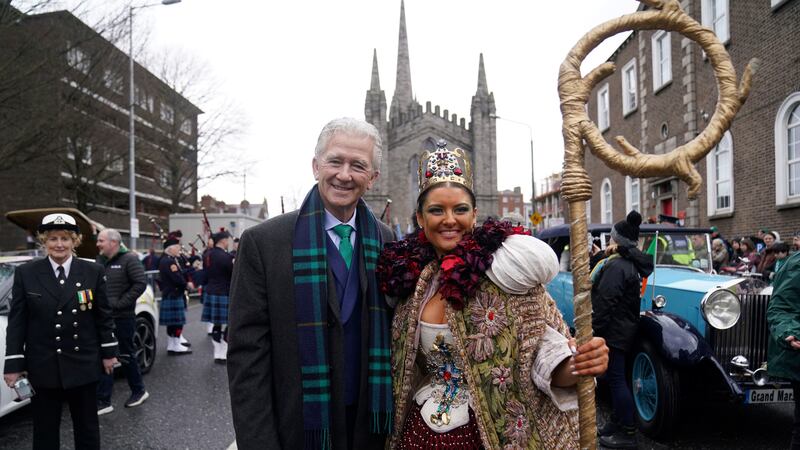 Published: Mar. 17, 2023 at 11:10 AM EDT
|
Updated: Mar. 17, 2023 at 7:10 PM EDT
(AP) - From New York City, to Savannah, Georgia, to the halls of the White House, thousands of people in the U.S. celebrated St. Patrick's Day with parades, pub crawls and a state visit.
Thousands of tourists and locals alike crowded the oak-shaded squares and downtown sidewalks of Savannah on Friday. The city's parade, a 199-year-old tradition, is the South's largest.
Veteran parade watchers arrived before dawn to claim space in the squares for picnic tables and party tents. Bars opened at 7 a.m. to greet customers already thirsty for beer and Bloody Marys.
The annual parade in New York City — which bills itself as the world's largest and oldest — drew throngs to Fifth Avenue to await bagpipes and bands, and give homage to Ireland's patron saint.
"When we march up Fifth Avenue," New York Mayor Eric Adams said during the annual St. Patrick's Day Breakfast Reception, "it appears as though everything turns to green."
Irish immigrants have a deep history in helping New York City become what it is today — one of the many groups, the mayor said, "that make up our city and that makes us great."
Kevin Conway, the parade's grand marshal, led the way.
"We're going to march in a celebration of all things Irish, the Irish culture, the Irish people. We're going to march in tribute to the 25th anniversary of the Good Friday Peace Agreement," he said, referring to the peace accord that helped end sectarian violence over the reunification of Ireland and Northern Ireland, which is part of the United Kingdom.
Bernadette Byrne, who took in the parade while visiting from Ireland, felt right at home.
"The atmosphere is great," she said. "Everybody's so friendly."
In Portland, Oregon, the city's oldest Irish bar was in hot pursuit of a Guinness — not the famed Irish beer but what they hope will be a world record for the biggest Irish coffee ever brewed: 264 gallons of it.
Some cities, including Boston, will hold parades and other festivities this weekend. Other cities including Chicago, which dyes its river green to commemorate a day when everyone pretends to be Irish, already held their parades last weekend.
On Friday, the fountain on the South Lawn of the White House also flowed green as President Joe Biden, who often speaks of his Irish heritage, welcomed Irish Prime Minister Leo Varadkar. The COVID-19 pandemic had delayed the longstanding meetup by two years. Biden said he plans to visit both the Republic of Ireland and Northern Ireland this year, where he will likely commemorate the U.S.-brokered peace agreement.
Also in the nation's capital, Cardinal Wilton Gregory, the first Black cardinal from the United States, greeted the faithful with handshakes, hugs, and a few selfies amid the tunes of bagpipes and movements of Irish dancers.
In Savannah, temperatures were springlike, in the mid-70s (24 C). Fittingly, many parade watchers wore shorts with green T-shirts and strands of green plastic beads.
Mike Trout painted his entire face and bald head with green makeup, accented by an orange plastic mustache.
"You got the spirit, brother!" said one passerby, tapping Trout on the shoulder as he and wife, Diana, strolled the streets before the parade. The couple from Camp Hill, Pennsylvania, traveled to Savannah just to celebrate St. Patrick's.
Started in 1824 by Irish immigrants to Georgia's oldest city, the St. Patrick's Day parade in Savannah has ballooned into one of the South's largest street parties after Mardi Gras.
"This is a lot of people," said Sheila Barry, a Savannah native who staked out spots with a friend along Abercorn Street near the start of the parade route. They packed sandwiches, water and something else to drink that Barry described mischievously as "St. Patrick's holy water."
Barry, 55, wore a wide felt sash of emerald green embroidered with the names of her late parents, Irish immigrants who came to Savannah more than five decades ago.
"Everybody, they're all Irish today," Barry said. "Everybody's just here to have a good time."
Vivian Penn's 2-year-old granddaughter, Adeline, clapped and waved as Savannah's parade kicked off with school children in kilts carrying American and Irish flags followed by the droning whine of a bagpipe band. The girl in a white dress with shamrocks and green stripes celebrated her birthday just two days before St. Patrick's Day.
"She's always going to be an Irish redhead," Penn said of her blond grandchild.
Friday marked just the second parade in Savannah since the coronavirus pandemic forced city officials to pause the celebration in 2020 and 2021. Even last year's comeback parade seemed subdued, with plenty of elbow room along the typically packed parade route, said Penn, who lives nearby in Savannah's downtown historic district.
"This looks like it's back to normal," Penn said. "This morning I was like, 'Yes, it's St. Patrick's Day!' Seeing all the people out the window with their chairs running down the street was very exciting."
___
This story corrects the number of years the Savannah parade as been a tradition to 199, instead of 100.
___
Bynum reported from Savannah, Georgia, and Calvan from New York. Associated Press writers Colleen Long and Giovanna Dell'Orto in Washington contributed to this report.
Copyright 2023 The Associated Press. All rights reserved.