UConn routs Gonzaga 82-54 for first Final Four in 9 years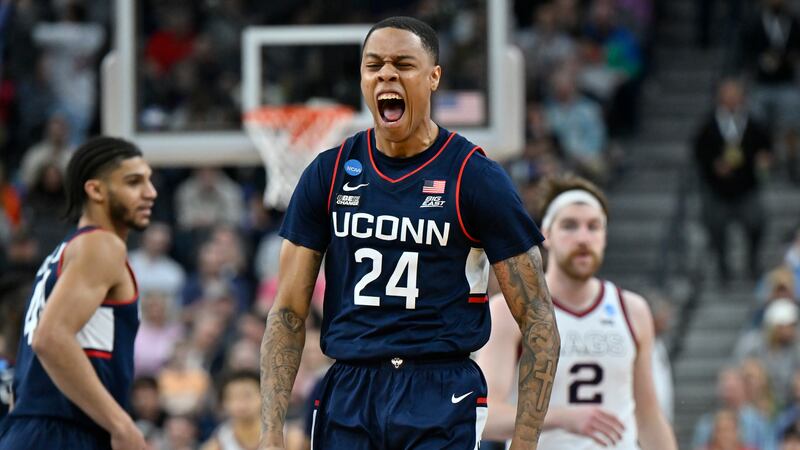 Published: Mar. 25, 2023 at 11:25 PM EDT
|
Updated: Mar. 26, 2023 at 12:41 AM EDT
LAS VEGAS (AP) - The critique of UConn under coach Dan Hurley had been the program's inability to win in March.
Consecutive first-round NCAA Tournament exits meant the Huskies were good, not great — certainly not anywhere in league with the UConn women's program.
In perhaps the maddest March of all, Huskies proved they are elite again, putting in another dominating performance a few hours after the UConn women had a rare misstep.
Jordan Hawkins scored 20 points and UConn overwhelmed its fourth straight NCAA Tournament opponent, earning its first trip to the Final Four in nine years with an 82-54 blowout of Gonzaga on Saturday night.
"I think it becomes a little bit of a mental hurdle, especially like early rounds of the NCAA Tournament where you feel like maybe the burden of the history and tradition and first-round games, maybe even second-round games," Hurley said. "The climb to get to this point has been real and it's been more challenging than I thought."
The Huskies (29-8) have felt right at home in their first extended March Madness run since winning the 2014 national championship, playing their best basketball of what had been an up-and-down season.
UConn controlled the usually efficient Bulldogs at both ends in the West Region final, building a 23-point lead early in the second half to waltz right into the final section of the bracket.
Those first-round exits are now well in the rearview mirror. So is that midseason funk.
These elite Huskies did what the UConn women couldn't for once and are headed to Houston, where they will play Texas or Miami.
UConn has a pretty good track record once it gets this far, too: The Huskies are 8-1 all-time in Final Four games.
"We've got a lot to prove," said Andre Jackson Jr., who had eight points, 10 assists and nine rebounds. "We still have a chip on our shoulder."
The Bulldogs (31-6) didn't have the same second-half magic they had in a last-second win over UCLA in the Elite Eight.
Gonzaga allowed UConn to go on a late run to lead by seven at halftime and fell completely apart after All-American Drew Timme went to the bench with his fourth foul early in the second half.
The Zags shot 33% from the field — 7 of 29 in the second half — and went 2 for 20 from 3 to stumble in their bid for a third Final Four since 2017.
"UConn was just terrific tonight and we didn't have any answers, especially when kind of everything really didn't bounce our way," Gonzaga coach Mark Few said. "And we can't absorb a game like that when our offense is as bad as it was tonight."
Alex Karaban scored 12 points and Adama Sanogo had 10 points and 10 rebounds for UConn.
Timme had 12 points and 10 rebounds, receiving a warm ovation after being taken out of his final collegiate game with 1:50 left.
"I'm just so thankful that the program and the place took me for who I was," said Timme, who shared a long embrace with Few when he exited. "They didn't ask me to be anybody but myself."
The Zags started off like they had a Vegas hangover, firing off two air-balled 3-pointers and a wild runner by Timme. Once Gonzaga shook out the cobwebs, the Bulldogs kept the Huskies bridled with defense, with hard hedges on screens and Timme sagging off Jackson to protect the lane.
UConn countered by getting the ball into the strong hands of Sanogo, the facilitator. The UConn big man picked apart Gonzaga's double-teams for five first-half assists, including two for layups.
"We figured that out," Hurley said. "That doesn't work anymore."
Karaban hit a 3-pointer at the buzzer to put the Huskies up 39-32 at halftime, and it got worse for Gonzaga to start the second half.
UConn pushed the lead to 12 and Timme picked up his third and fourth fouls in the opening 2 1/2 minutes — one on a charge, another on a box-out under the rim.
"We brought the team together and tried to keep positive thoughts and try to keep chipping away at that lead," Gonzaga forward Anton Watson said. "But it's hard when Drew goes out."
The Huskies really got rolling when Timme took a seat, using their defense to get out in transition and set up 3-pointers. A 14-3 run put UConn up 60-37 and Few took the calculated gamble of bringing Timme back in.
It made little difference.
UConn kept up the pressure and kept making shots, looking an awful lot like the favorite to win it all.
___
AP March Madness coverage: https://apnews.com/hub/march-madness and bracket: https://apnews.com/hub/ncaa-mens-bracket and https://apnews.com/hub/ap-top-25-college-basketball-poll and https://twitter.com/AP_Top25
Copyright 2023 The Associated Press. All rights reserved.