Pick 6: Coaches facing heat in 2023 include Brown at WVU, Allen at Indiana, Drinkwitz at Mizzou
Silly season in college football, that time when coaches get fired and hired, seems to never stop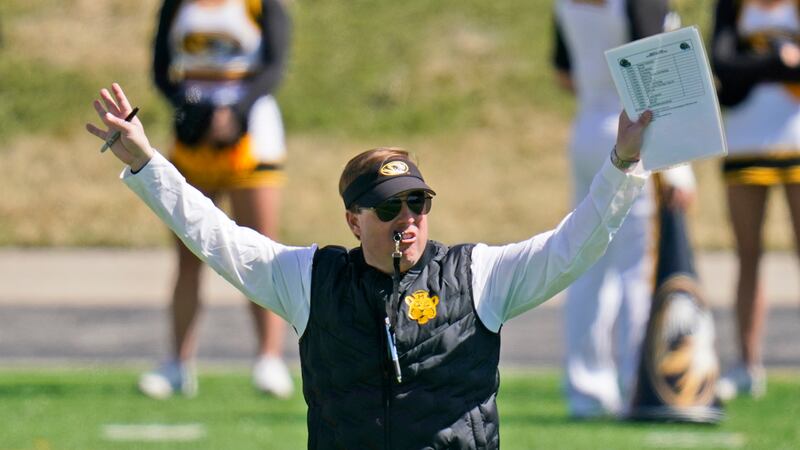 Published: Aug. 14, 2023 at 5:32 PM EDT
The silly season in college football, that time when coaches get fired and hired, seems to never stop.
The dismissal of Pat Fitzgerald by Northwestern after an investigation into hazing in the program kicked off this year's carousel.
College administrators are also embracing the quick hook more than ever before. Last year, there were five coaching changes between the first games and Oct. 3.
Who is in danger of being this season's Scott Frost or Geoff Collins? There are hot spots to varying degrees at West Virginia, Indiana, Syracuse, Missouri and Boston College.
Results on the field matter, but the other major factors are how much it will cost to buyout a contract and whether the athletic director currently in charge hired that coach. Six situations worth monitoring:
NEAL BROWN, West Virginia (22-25 record, four seasons)
The pandemic year, the loosening of transfer rules, the NCAA lifting a ban on players being paid for endorsements and conference realignment have changed the landscape of college football.
Not all programs have been impacted the same way.
Not to make excuses for Brown, but the Mountaineers' failure to launch under him is in part because the job changed and not for the better. When new AD Wren Baker arrived last last season, giving Brown another season to prove it was an acknowledgment of that reality, at least in part. Also, Brown would have been owed $17 million, a buyout number that drops by about $4 million after this season.
The problem for Brown is similar to what Collins faced in a make-or-break season at Georgia Tech last year.
West Virginia has a brutal early schedule with nonconference games against Penn State and Pitt and conference games against Texas Tech and TCU — all before October.
Baker's patience and desire to save money amid fan discontent could be tested.
TOM ALLEN, Indiana (30-40, seven seasons)
The feel-good seasons of 2019 and 2020 under Allen, who has a fiery Ted Lasso vibe, has not been sustainable for the Hoosiers. Allen's buyout is around $20 million even if he's fired after the season.
On one hand, that could push Indiana to have a some patience if the Hoosiers can cobble together a respectable season.
On the other, Indiana opens at Ohio State, plays Louisville two weeks later and is at Maryland on Sept. 30 and Michigan on Oct. 14. If it's going to cost a fortune either way to fire Allen, a bad first half could seal the deal.
ELI DRINKWITZ, Missouri (17-19, three seasons)
Drinkwitz got a two-year extension and a raise in the offseason from AD Desiree Reed-Francois, who did not hire him. Notably the new deal didn't increase the cost for Missouri to fire Drinkwitz after this season.
Mizzou would still by on the hook for about $20 million after this season if it cuts loose Drinkwitz, whose teams have been neither terrible nor particularly good.
Expectations are not unreasonably high. A 6-6 regular-season against a tough schedule that includes Georgia, LSU and Tennessee in the SEC and nonconference games against Kansas State and Memphis could be enough to justify patience.
JEFF HAFLEY, Boston College (15-20, three years)
Hafley's first two seasons — including 6-5 during the pandemic year — hinted that BC might have found a gem in the former Ohio State defensive coordinator with NFL experience.
There wasn't much improvement in Year 2 and the bottom fell out last season (3-9) with injuries and portal departures leaving the Eagles with nothing close to ACC-level depth.
Boston College has become a harder job in the portal/NIL era but that will only buy Hafley so much extra slack. What might, though, is a contract that runs though 2026. As a private school, BC doesn't release financial details, but it is safe to say picking up the last three years of the deal would put BC on the hook for at least $10 million.
The schedule also presents an opportunity for six wins and even five might be enough for Hafley to get another season. BC athletic director Blake James didn't hire Hafley, but has a reputation for being patient.
Something to watch: BC in Week 2 faces Holy Cross, an FCS schools in Worcester, Massachusetts, that has been rolling under fifth-year coach Bob Chesney.
DINO BABERS, Syracuse (36-49, seven seasons)
Babers has had two winning seasons in upstate New York.
Syracuse has become a tough place to win, but it is reasonable for Orange fans to wonder if this is as good as its gets under Babers, whose contract is believed to run through 2024. The schools is also not obligated to release contracts.
Also working against Babers: Few if any top-tier jobs are expected to come open this year. Could be a buyers' market for Syracuse.
RYAN SILVERFIELD, Memphis (21-15, three seasons)
Conference realignment is going to change expectations for some schools and put more pressure on some coaches.
Silverfield is a good example. Now that UCF, Houston and Cincinnati are gone from the American Athletic Conference, Memphis sees an opportunity to run the league and be in position for a promotion when the the next round of realignment happens.
Another meh season against a bunch of former Conference USA schools is not likely to be tolerated by Memphis.
NOTES: Rice, one of those CUSA schools moving into the AAC, will also need to see more from coach Mike Bloomgren. ... Former Tennessee coach Butch Jones can't afford another terrible season at Arkansas State with a new AD in place.
___
Follow Ralph D. Russo at https://twitter.com/ralphDrussoAP and listen at http://www.appodcasts.com
___
AP college football: https://apnews.com/hub/college-football and https://apnews.com/hub/ap-top-25-college-football-poll