COVID-19 cases climb in Springfield as the fall season approaches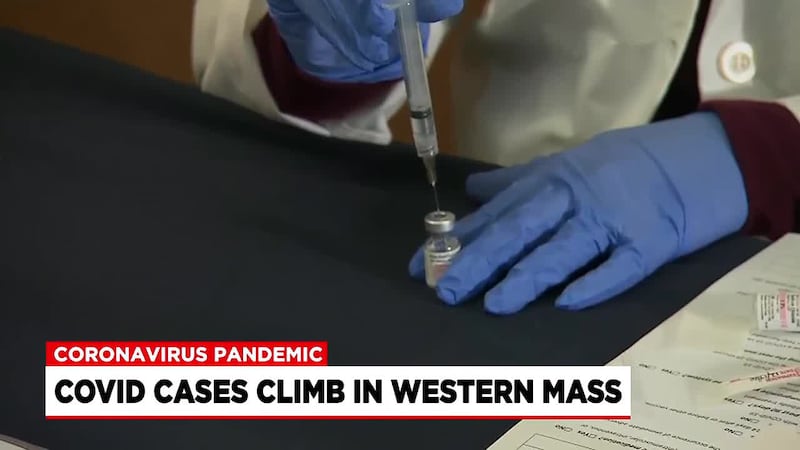 Published: Sep. 21, 2023 at 5:08 PM EDT
SPRINGFIELD, Mass. (WGGB/WSHM) - COVID-19 cases continue to climb.
It's on many people's minds around western Mass.
"Members of my family have gotten it, it's not good, it's definitely something that hurts you, it stays with you for a while, and you do want to take all the precautions you can," said one Wilbraham resident.
"If I'm feeling a little under the weather, I make sure to take a COVID test, and then make sure to wear a mask around the office," said one Springfield resident.
Taking a look at the state's recent COVID-19 data, as of Thursday over 400 cases of COVID-19 have been reported in Hampden County over the past two weeks, an uptick of over 100 cases since the end of August.
Springfield's Health and Human Services Commissioner Helen Caulton-Harris addressed this uptick in the city's public health council meeting Wednesday.
"The hospitalizations from COVID are increasing and we do not have data as far as testing is concerned because we are doing home tests and home tests are being done so our data is incomplete. We have not received our vaccine portion of the new vaccine that we have been recommended to wait for in terms of the public," said Caulton-Harris
She says once the city receives the boosters, clinics will be scheduled.
Western Mass News also checked in with the local pediatrician Dr. John Kelly. He says he doesn't think the surge in cases is the same as in previous fall seasons, but encourages everyone to stay up to date with their COVID shots.
"It's a disease that's going to be like this kind of flu shot. It's gonna change as the variants change and it's approved for six months and older," said Kelley.
Meanwhile, Springfield is monitoring the presence of COVID-19 in wastewater. Health officials are expecting an update on that within the month.
Copyright 2023. Western Mass News (WGGB/WSHM). All rights reserved.