Getting Answers: lessons learned since October 2011 snowstorm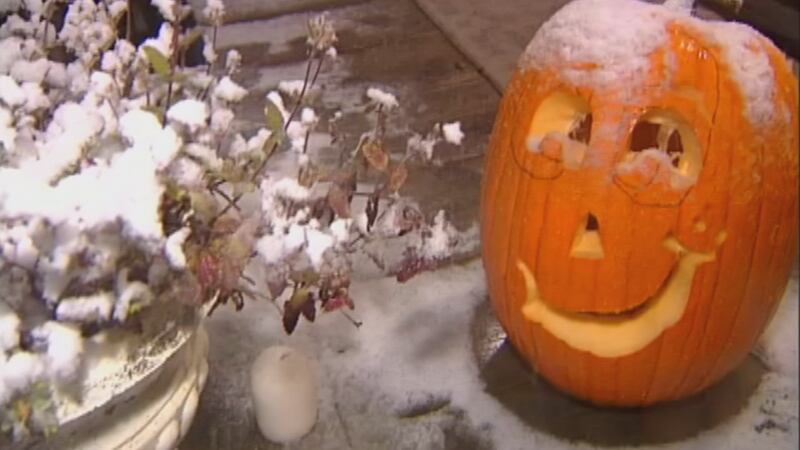 Updated: Oct. 26, 2023 at 5:55 PM EDT
SPRINGFIELD, MA (WGGB/WSHM) -- Our Western Mass News First Alert Weather team has predicted this week as peak fall foliage, but what does "leaves still on trees" this late in fall mean for our region? In October 2011, we lived it.
The crunch of leaves in October is the soundtrack of fall and it's these tiny, colorful brush strokes that paint a bigger picture of extreme weather in western Massachusetts. It's one we know as October 29, 2011, or as some called it, 'Snowtober.'
"It was a healthy amount of snow…very unusual for that time of the season, to get that much snow. I think most of the areas picked up six to ten inches, but heavy and wet, and then you have leaves on the trees. Of course, that led to all the power outages across the area," said First Alert Meteorologist Dan Brown.
Brown lives western Massachusetts weather both professionally and personally. The damage from October 2011′s snowstorm still stands out to him.
"I would say that this particular storm, as far as widespread damage with the snowstorm, this was the most impressive because it affected so many people," Brown added.
Even twelve years later, it's harder to find someone in our region without a story from 'Snowtober' than someone with.' Take Tony Szulcz from Agawam, for example.
"A lot of damage, my fences were destroyed, and I had young kids at the time and we had these electric cars. There were branches that fell on those, so a lot of damage, property damage, that I had…a lot of cleanup work that I had to do," Szulcz noted.
Experts credit the extensive damage to a late leaf drop in 2011. It's something that looks a lot like October this time around and has Eversource's team on high-alert.
"I'm looking at the long-range weather and hoping for clear skies. Leaves on the trees, snow and ice, not a good combination. It's a challenge and if we see the weather become threatening, we gear up. We get ready for it because we know it's going to be big," said David Velez, director of field operations for Eversource.
After 'Snowtober,' hundreds of thousands of western Massachusetts residents were without power for almost a week. Since then, they've adjusted to prevent repeating history.
"We are better prepared now than we ever have been," Velez added. "Whenever we have the chance to do something, we're always building it a little better, a little stronger than before."
Velez told Western Mass News that they spent good weather days replacing poles and lines with a stronger version of themselves and upgraded their weather tracking techniques.
"We have changed so many of our standards since 2011, for sure. Wooden crossarms that you see there, they are the old standard. Now, we're putting up fiberglass crossarms that are stronger…better," Velez explained.
Still, there's not much they can do to fight Mother Nature and the possibility of a repeat.
"It will happen again, it's just a matter of when. This week is going to be warm, but you get to early November and you still have leaves on the trees and you have snow in the forecast, which we don't necessarily have right now…you always have to kind of be concerned about that," Brown noted.
"Actually, this year…my neighbor has a lot of trees right on the property line, so this morning, we were supposed to get some snow and this tree is completely green still…full of leaves…so if we ever had a storm like that, the same thing would happen all over again," Szulcz said.
In the meantime, Eversource is staying optimistic.
"I'm looking at the long-range weather and it's looking pretty good, but every day in a new day," Velez said.
Velez and Eversource encourages residents to look at trees around their home to make sure none are hanging too closely to power lines. Additionally, have an emergency bag packed with charged batteries, nonperishables, and flashlights in case power is lost again for an extended period.
Copyright 2023. Western Mass News (WGGB/WSHM). All rights reserved.