18 people displaced by 2 Springfield fires days before Thanksgiving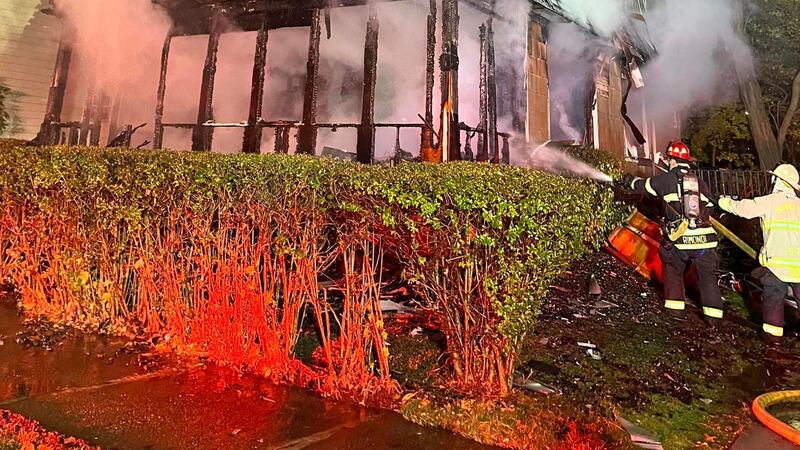 Published: Nov. 19, 2023 at 10:59 PM EST
SPRINGFIELD, MA (WGGB/WSHM) - Two fires on Sunday displaced over a dozen people just days before Thanksgiving. One Springfield neighborhood was impacted by two separate fires and neighbors we spoke with told Western Mass News that they're sad for those displaced days before the holiday.
A neighbor on Edgeland Street told Western Mass News off-camera that she was woken up by the sound of explosions. In video provided to Western Mass News, fire could be seen fully engulfing a home on Edgeland Street moments before the fire crews arrived. Neighbors said that the flames were so intense that they felt the heat from the other side of the road.
The Springfield Fire Department told us that five people were displaced on Edgeland Street, but no one was injured. Firefighters returned to the area a few hours later for a second fire at a Springfield Gardens apartment building on Coomes Street.
"I woke up this morning, I couldn't believe it, firemen all over the place, and smoke rising from the apartment," said one eyewitness in the area.
"We received a 911 call around 8:50 this morning for a working fire in apartment six on the third floor," said Springfield Fire Capt. Drew Piemonte.
We're told 13 tenants were displaced and one person was transported to the hospital with minor injuries. With holiday gatherings on many people's agenda, Piemonte emphasized the importance of having an escape plan ready if a swift exit from your home is needed.
"Make sure you have your evacuation plan, practice it, make sure you have operating smoke detectors throughout your structure on all floors," Piemonte explained.
The cause of both fires is under investigation by the Springfield Arson and Bomb Squad. The people displaced are being assisted by the American Red Cross.
Copyright 2023. Western Mass News (WGGB/WSHM). All rights reserved.